Post Apokalliptik evren temelde, bilim kurgu edebiyatının bir alt türüdür ve nükleer ya da biyolojik savaş ile , biyolojik, ekolojik, jeolojik ya da nükleer felaketlere bağlı olarak dünyanın sonunun gelmesini ve böylesi büyük yıkımlar sonucu sağ kalan insanları nasıl bir hayatın bekleyebileceğini konu edinir. Yani bir felaket sonrası dünyanın sonu geldikten sonraki evreyi anlatır Post- apokaliptik. Kişisel olarak kurgu edebiyatı ve beyazperdede tüketmekten çok haz aldığım bir türdür. Özellikle sinemada çok çok iyi örnekleri olan bu tür filmleri, bu son derece anormal günlerde izlemesi hoş birer seçenek olarak önümüzde duruyorlar. Tamamiyle kişisel zevklerimden kaynaklı ve son derece subjektif hazırlanmış 10'dan geriye, şu ana dek çekilmiş en iyi ve mutlaka izlemeniz gereken kıyamet sonrası filmler için listemize alalım, keyifli okumalar.
10- Twelve Monkeys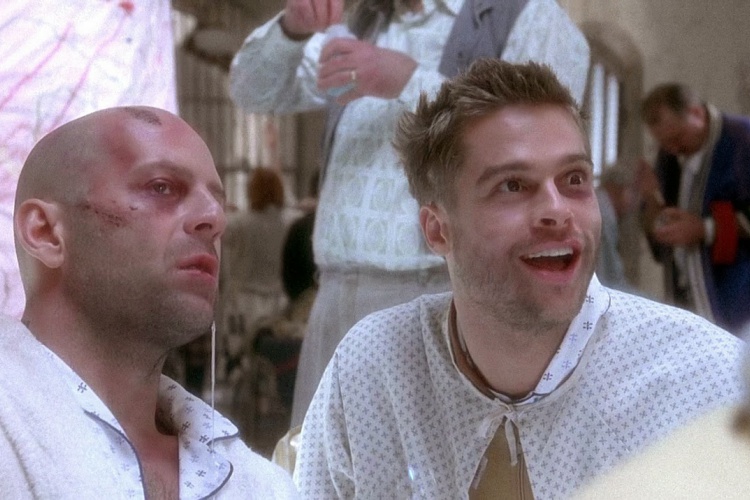 Brad Pitt'in deli rolüyle hafızalara kazınan 12 Maymun, Bruce Wills'in aksiyon konusundaki süper yıldızlı yıllarının son demlerine çekilmiş şahane bir seyirlik. Terry Gilliam yönetmenliğindeki filmde Brad Pitt'in ilgi çekici performansı ve yönetmen Gilliam'ın eşsiz çekimleri türdaşları arasında 12 Maymunu farklı bir yere koyabiliyor. Lanet olası bir virüs yüzünden(!) tüm insanlık yer altına inmiştir ve bu durumdan tek kurtuluş, her şeyin bozulduğu zamana gidip olaylar sarpa sarmadan düzeltmektir. Terminatör 2 gibi ama biraz daha değişiği olan 12 Maymun, hala izlemesi son derece keyifli bir Post-Apokaliptik yapım.
9-Wall E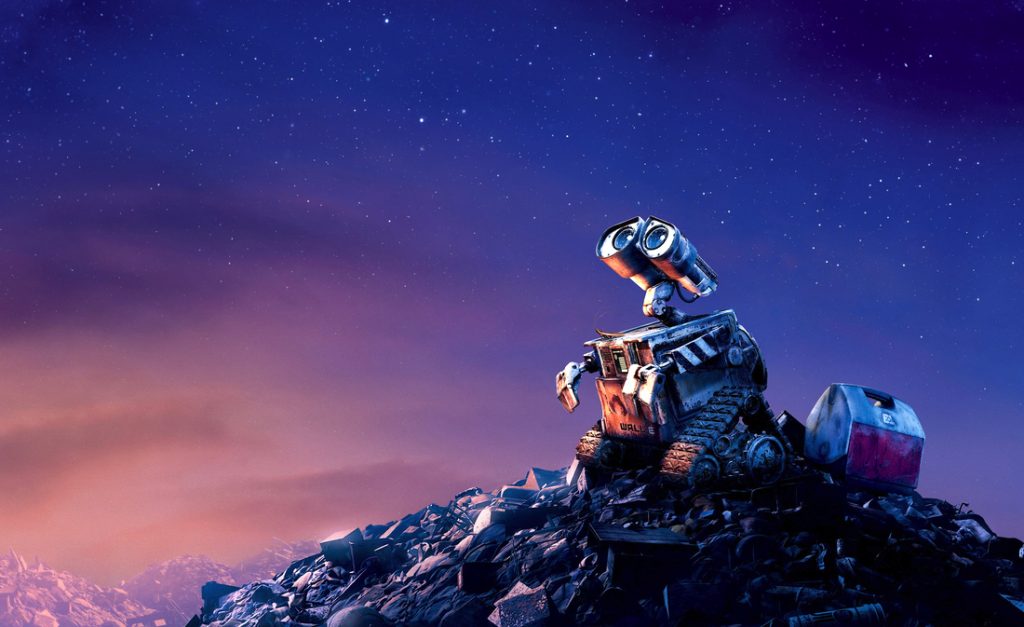 Genelde iç burkan, sıkıntılara sürükleyen ve depresif temalara sahip Post-Apokaliptik janraya nazaran Wall E'de garip yaratıklar, kaos ve ölümlerin yerini sessizlik alıyor. Wall-E'de zombiler ya da bir virüs yüzünden mutasyona uğramış insanlardan ziyade, çökmüş bir medeniet sonrası temizlik yapan kendi halinde bir robot var. Ve bu robotun hikayesi ekseriyetle depresif olsa da can sıkan depresyonlardan ziyade daha içimizi ısıtan cinsten. Disney/Pixar ortak yapımı bu benzersiz animasyon hem müthiş bir sinema filmi hem de türdaşlarından çok çok farklı bir yapım.
8-28 Days Later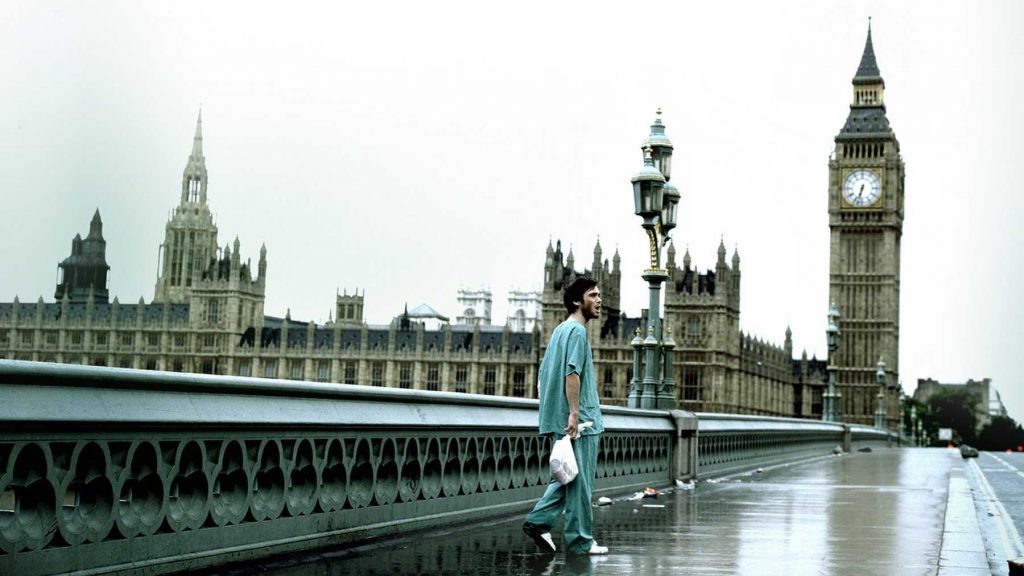 Kurgusu ve konusu zamanın ötesine olan Danny Boyle yapımı 28 Gün Sonra, Zombi janrasına dair bir çok klişeyi ilk başlatan sinema yapımlarından biri olma özelliğini taşıyor. Bir maraton koşucusu gibi koşan Zombi mantığını ilk kez gördüğümüz yapım etkileyici seyirliği iyi müzikleri ve müthiş oyunculuklarıyla üst düzey Post- Apokaliptik filmlerden biri. Çekildikten yıllar sonra değeri biraz daha anlaşılan filmin özellikle Cillian Murpy'nin boş şehirde gezdiği enfes çekimlere sahip sahnelerin, bugünlerde biraz daha etkileyici geleceği şüphesiz. Sahneyi hemen alttan izleyebilirsiniz.(spoiler bulunmamaktadır.)
7-Dawn of the Planet of the Apes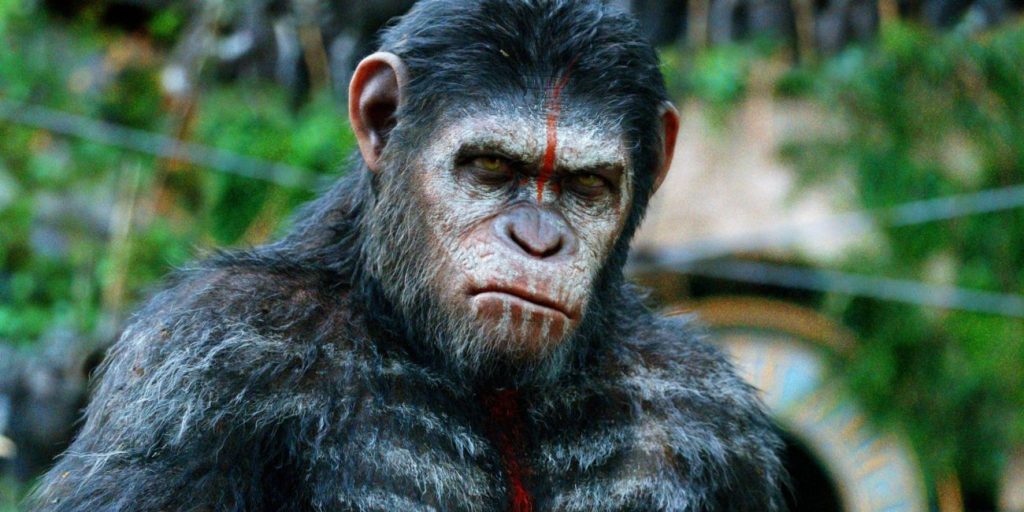 Birden fazla kez çekilen Maymunlar Cehennemi, Post- Apokaliptik filmler arasında her bir filmiyle ayrı bir yerde duruyorken, 2011 yılında başlayan son üçlemenin ikinci halkası
Şafak Vakti ile hem seriye hem de janraya bambaşka bir bakış açısı getiriyor. Yönetmen Matt Reeves'e bu filmdeki başarısı sebebiyle daha sonra Batman filmlerini yönetmesine kadar ün katacak filmin bir çok önemli noktası bulunuyor. Standart Maymunlar Cehennemi teması zaten son derece tüyler ürpertici bir anlatıya sahipken Şafak Vakti tüm bunlara müthiş bir neden- sonuç ilişkisi ekliyor ve ''gerçeken bu dünyaya hükmetmeyi hak ediyor muyuz?'' sorusunu sordurtuyor.
6-The Road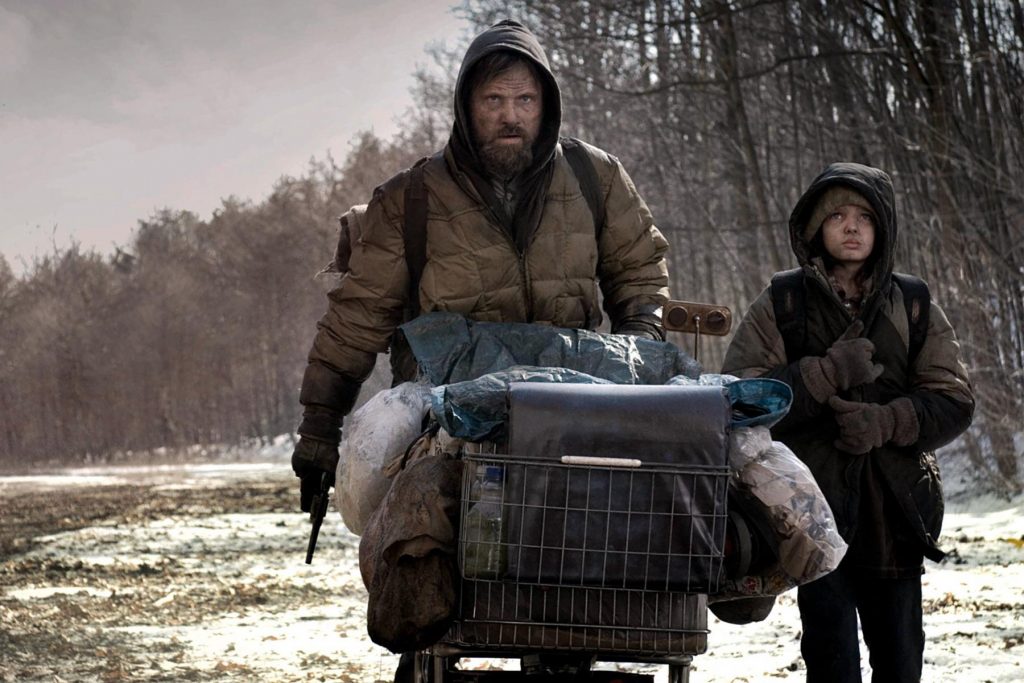 Road, şu ana dek izlediğim en kasvetli filmlerden biri. Ancak filmdeki bu benzersiz kasvet, filmin gri tonuna o denli yakışıyor ki, doğru ruh halinde The Road benzersiz bir seyirlik sunuyor. Harap olmuş Amerika'da oğlu ile yürüyerek yolculuk eden bir babayı ve bu ikilinin başlarından geçenleri anlatan The Road'da, Aragorn rolü ile efsane olmuş Viggo Mortensen yine her filminde olduğu gibi müthiş bir performans ortaya koyuyor. Harap olmuş bir medeniyet, gri yollar ve sessizliğin rahatsız edici formlarıyla Road kesinlikle izlemeniz gereken bir Post- Apokaliptik başyapıt.
5-Children of Men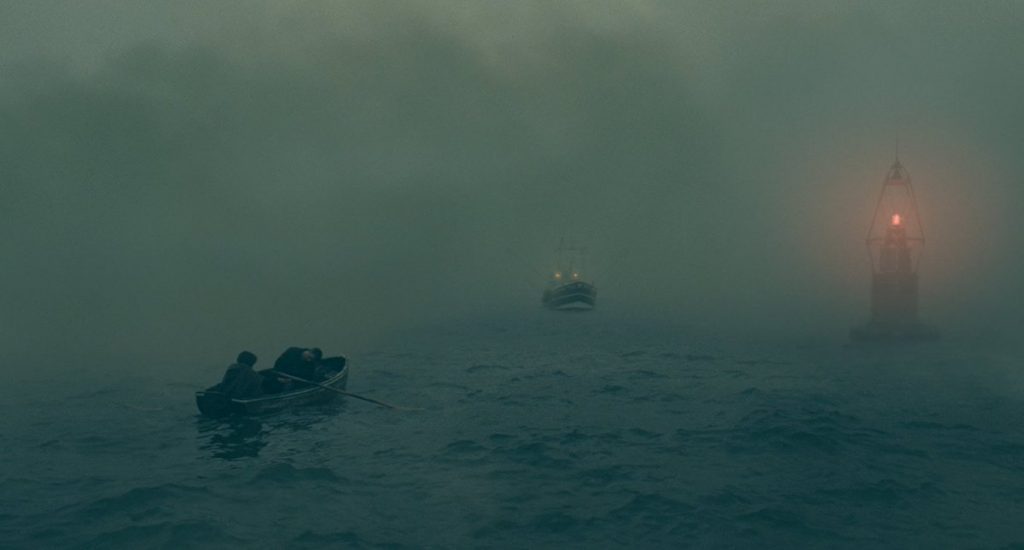 Oscar Ödüllü usta yönetmen Alfonso Cuaron'un başyapıtlarından Children of Men, 19 yıldır hiçbir bebeğin doğmadığı 2027 yılından son derece kasvetli ve distopik bir evren sunuyor. Kusursuz tek plan çekimleri ile ön plana çıkan yapımda kapalı sınırlar, toplama kampları ve fildişi kulelerinde saklanan zenginleri ile günümüze ait müthiş çıkarımlar yapıyor. Türe dair benzersiz işlerden biri olan Children of Men, hem görüntü yönetmenliği hem de senaryosuyla tekrar tekrar izlenesi etkileyiciliğe sahip bir yapım.
4-Terminator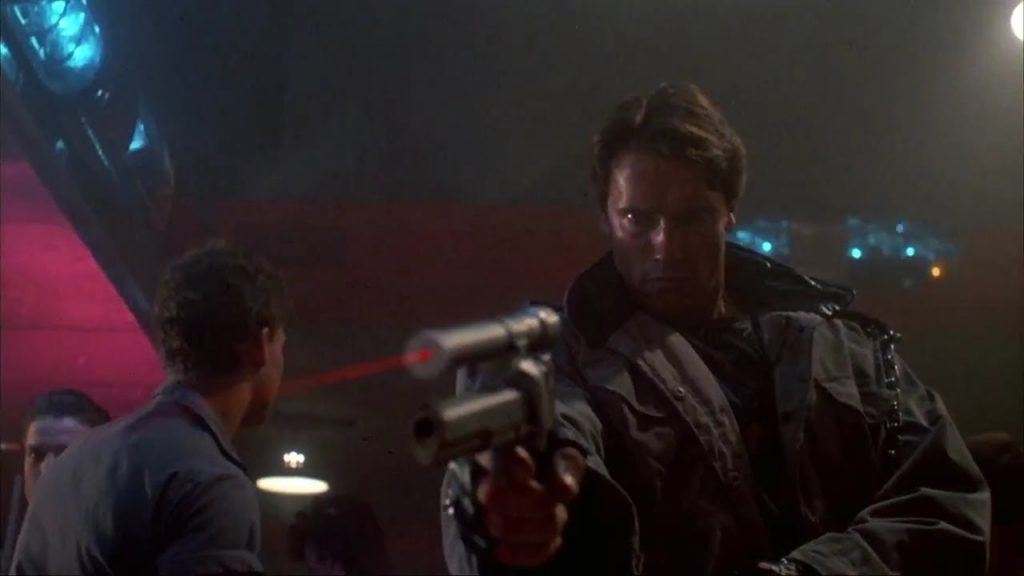 James Cameron'un bu sinema dünyasını değiştiren filmi Terminatör, hem bilim kurgu janrasına hem de bu janranın bir alt türü olan kıyamet sonrası evren filmlerine müthiş bir örnek teşkil ediyor. Daha sonra sayısız devam filmi çekilen, dizileri yapılan üzerine kitaplar yazılan Terminatör serisi, özellikle 2. filmiyle tam anlamıyla bir başyapıt niteliğinde. arnold schwarzenegger'e süper star sıfatı hediye eden Terminatör'de, makineler bilinçlenip insanlığı adeta kıyıma uğratacağı bir evrende geçiyor. Bu kıyımın ortasında insanlığa liderlik edip makinelere karşı gelecek olan John Connor'ın doğmasına engel olmak için, gelecekten geçmişe makineler tarafından John'un annesini öldürecek bir Terminatör yollanır. Ana teması bu şekilde olan Terminatör özellikle çağın ilerisindeki aksiyon sahneleriyle ön plana çıkıyor.
3-The Matrix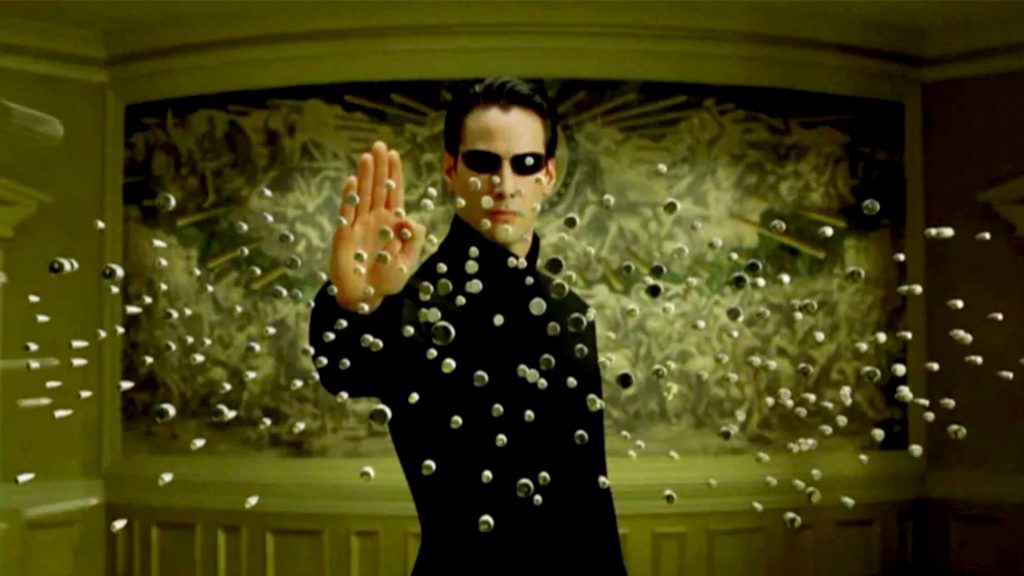 Evet, Matrix tam anlamıyla bir Post- Apokaliptik film. Daha sonra Animatrix ile biraz daha bilgi edinebildiğimiz serinin temelinde, makineler tarafından yok edilen tüm insan ırkı, makineler için birer enerji aracı olarak kullanılmakta ve bunun karşılığında yaşadığımız dünyaya birebir benzeyen kusursuza yakın bir simülasyonda yaşamaktadırlar. Bu simülasyonda yaşamayı reddeden ve makinelere karşı gelen bir grup insanın hikayesini anlatan Matrix, anlattığı konu itibariyle epey karmaşık bir yapıya sahip olsa da 90'lara dair sinemanın çıkardığı en mühür işlerden biri. Çıktıktan sonra tüm sinema endüstrisini kökten değiştiren The Matrix, zamanının en iyi aksiyon işlerinden de bir tanesi. Hem derin konusu hem de aksiyon sahneleri ile hala tekrar tekrar izlenebilecek kalitede bir seyirliğe sahip.
2-Mad Max Fury Road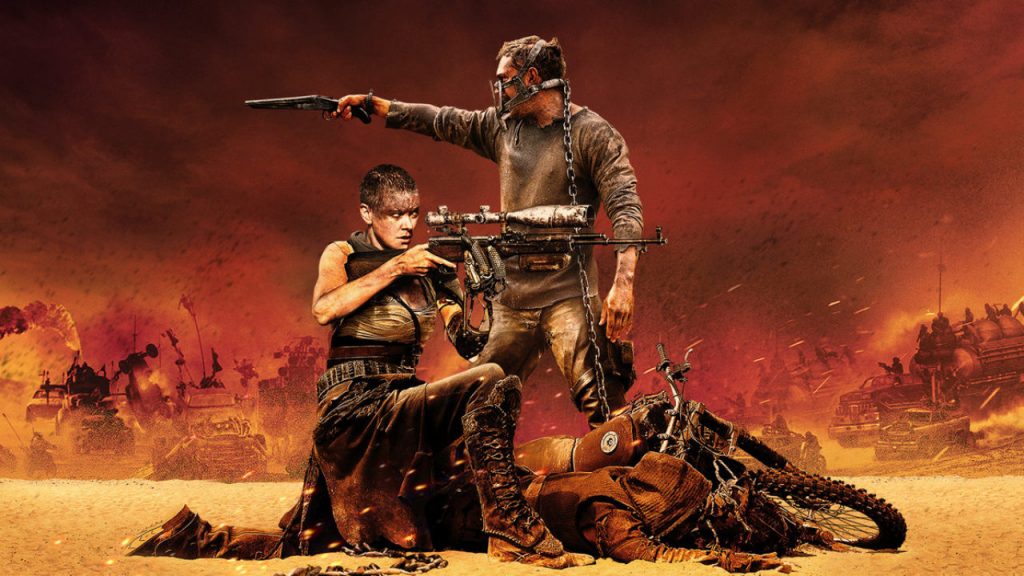 Kıyamet Sonrası filmler arasında bambaşka bir yerde duran Mad Max filmlerinin önemini anlatmaya gerek var mı? 70'ler ve 80'lerin imkanları ile olabilecek en iyi şekilde çekilen seri, Post- Apokaliptik janraya ekseriyetle ilham vererek bu kurgu dalını alabildiğince etkilemiştir. 2015 yılında vizyona giren serinin son filmi Fury Road ise, tüm bunların arasında hemen hemen herkesi dumura uğratan kalitede bir yapım zira yıllar sonra tekrar çekilen seriler konusunda Hollywood yapımları ekseriyetle kötü işler çıkarmakta. Anack Fury Road, değil serinin ya da türün, 21. yüzyıla ait sinema filmleri arasında kendine apayrı bir yerde konumlandırıyor. Post- apokaliptik bir evrende kaos ve ölüm dolu bir kovalamacayı anlatan filmin senaryosu olabildiğince basit ilerliyor ve gerek feminist okumaları gerekse insanlığa dair müthiş göndermeleri ile oldukça derin bir anlatıya sahip. Tüm bunların yanında üzerine şiirler yazılabilecek kalitede sinematografisi ve gerçek anlamda benzersiz aksiyon sahneleri ile son 10 yılda yapılmış en iyi bir kaç filmden biri. Karantinada olun ya da olmayın, kesinlikle izlenmesi gereken Post- Apokaliptik bir film Fury Road. Filmin bir de Blu-Ray versiyonuna özel olağanüstü siyah-beyaz versiyonunu da şiddetle tavsiye ederim.
1-STALKER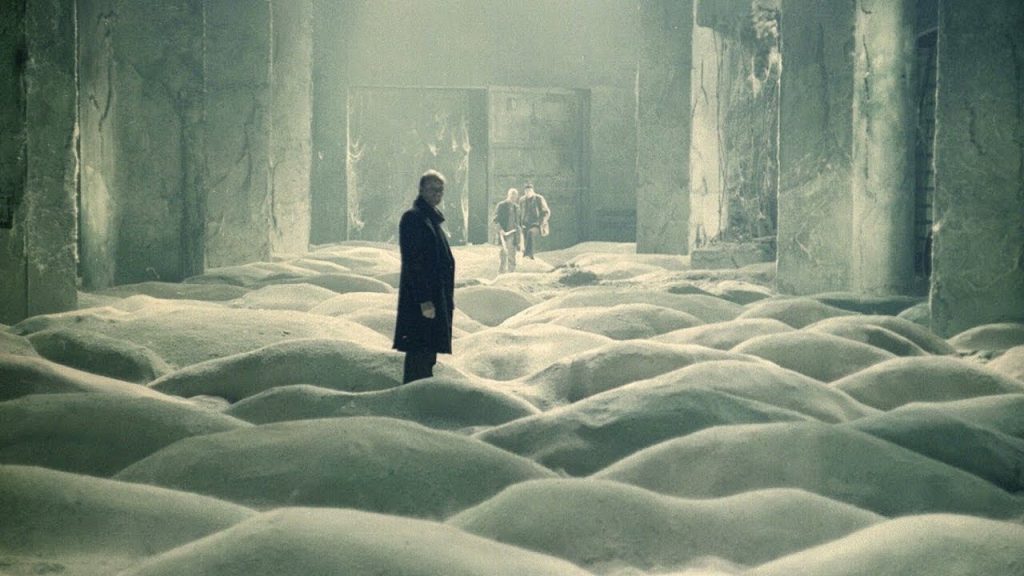 Yalnızca Post-Apokaliptik filmler arasında değil, gelmiş geçmiş en iyi filmler arasında gösterilen Stalker, 1979 yılı yapımlı bir Tarkovsky şaheseri. Yaşadıkları totaliter rejimin insanlardan, tüm dünyadan gizlediği "Bölge"'ye gitmek isteyen yolculara rehberlik eden biri ve bu yolcuğun felsefik, ahlaki, dini ve özgür iradeye dair mükemmel çıkarımları… Tarkosvky belki de gelmiş geçmiş en iyi yönetmenlerden biri ve Stalker kendisinin ustalık eseri. 79 yılında çekilmesine rağmen teknik ve görsellik namına hiçbir eksiklik içermeyen Stalker'da Zombiler ya da enfekte olmuş yaratıklar yok ancak izlerken ve izledikten sonra suratınıza fırlatılan bir kaç yumruk ile uzun süre düşüncelerle iç içe olacağınız garantisini verebilirim. Bu günlerde eğer felsefi çıkarımları üst düzey müthiş sinematografiye sahip bir şeyler izlemek istiyorsanız, Stalker tam aradığınız yapım.